All-Star Game ~ Award Presentation
AWARD PRESENTATION
Our 2018-2019 scholarship winners will be celebrated during the High School All-Star game at
Extreme Ice Center on June 6th at 7pm.
This year S2S is sponsoring the CSHL this season.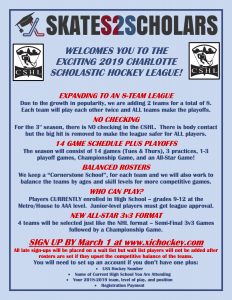 Click here for more information:
We are excited to announce more hardworking, and deserving, winners!
In 2018, S2S awarded $5500 in scholarships to local high school players: Christian Hoffman, Ryan Lubker, Nikita Smirmov, and Christian Sokol.