Countdown 2 Christmas Calendar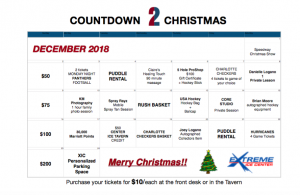 1. BILL ACTON – Family pass for the Charlotte Motor Speedway Christmas Show
2. WENDY ZALINSKY – $50 CASH
3. Rich ONZE – 2 Tickets for Monday Night Football; CAROLINA PANTHERS vs SAINTS                                      (section 502, row 1, seats 11 & 12).
4. JEFF HOLDENRID – A FREE 50 minute puddle rental.. Claire's Healing
5. BEN SPANG – Claire's Healing Touch has donated a 90 minute deep tissue massage.                                              (Appointment Only 704-651-5207)
6. CARLOS RECIO – $100 gift certificate AND Hockey stick donation from                                                                 5 HOLE PROSHOP
7. CHESSA DONNELLY – CHARLOTTE CHECKERS – 4 tickets to the game of your choice
8. AMY ERB – Danielle Logano has donated her time for a private Power Skating Lesson
9. KALEIGH MURPHY – $75 CASH
10. STEVE WILLIAMS – Kailyn Miller, KM Photography, has donated a family photography session.                                (980-819-0499 or www.kmphotographycharlotte.com)
11. AMY ERB – SPRAY RAYZ donated a mobile spray tanning session, they come to you!                                (Nina Cohen at 908-910-1753 or http://sprayrayztanning.com)
12. TOM MCNEIL – CHARLOTTE JR RUSH has donated a basket of RUSH goodies! Included is a hoodie, Tshirt, hat, travel mug, and more!
13. BRIAN PIERCE & JEFFREY KORTH  – 2 DRAWINGS – USA HOCKEY has donated multiple items for 2 care-packages.
Hockey player; large hockey equipment bag, puck bag, ball cap, and Gatorade towel.
Hockey spectator; travel rope bag, plush blanket, ball cap, and travel mug.
14. KYLE BENDER – Energize your Health! Core Studio has offered a private pilates session. (Jill Hinson at 704-288-3898 or at http://www.corestudiopilates.com)
15. THRESA MILLER – Our very own BRYAN MOORE is working his way up the hockey world and has donated            autographed equipment for you to have!
16. AMY LADOGANA – $100 CASH
17. DOUG FAULHABER – Marriott has generously donated 30,000 points to be used for any of their properties!
18. $50 credit to be used in CENTER ICE TAVERN
19. CHARLOTTE CHECKERS basket full of merchandise, tickets, and apparel!
20. Autographed collectors item from JOEY LOGANO
21. A FREE 50 minute puddle rental.
22. 4 Tickets to a CAROLINA HURRICANES home game of your choice!
23. $200 CASH
24. XIC PERSONALIZED PARKING SPACE – Have your own VIP parking space only for               you in a prime spot in front of the building January 1st through March 1st.
Our S2S Countdown 2 Christmas Calendar is back!! From now until December 24th you can purchase tickets at the front desk or in the tavern of XIC. Every day in December a new ticket will be draw for that days prize! The more tickets you purchase the better chance you have to win!
We will keep you posted on the winners as the month goes by!
GOOD-LUCK!